TRocket Golf would love you to think about purchasing the QOD Electric Golf Buggy but understands that not everyone wants an electric golf trolley. Some people simply want a push golf trolley.
push golf trolley reviews
This page is all about pointing you to the best reviews of Push Golf Buggies on the Web.
In this collection we have found reviews of these push buggies :-
Clicgear 3.5+ Golf Push Cart 3 wheel golf carts:

Clicgear 8.0 Golf Push Cart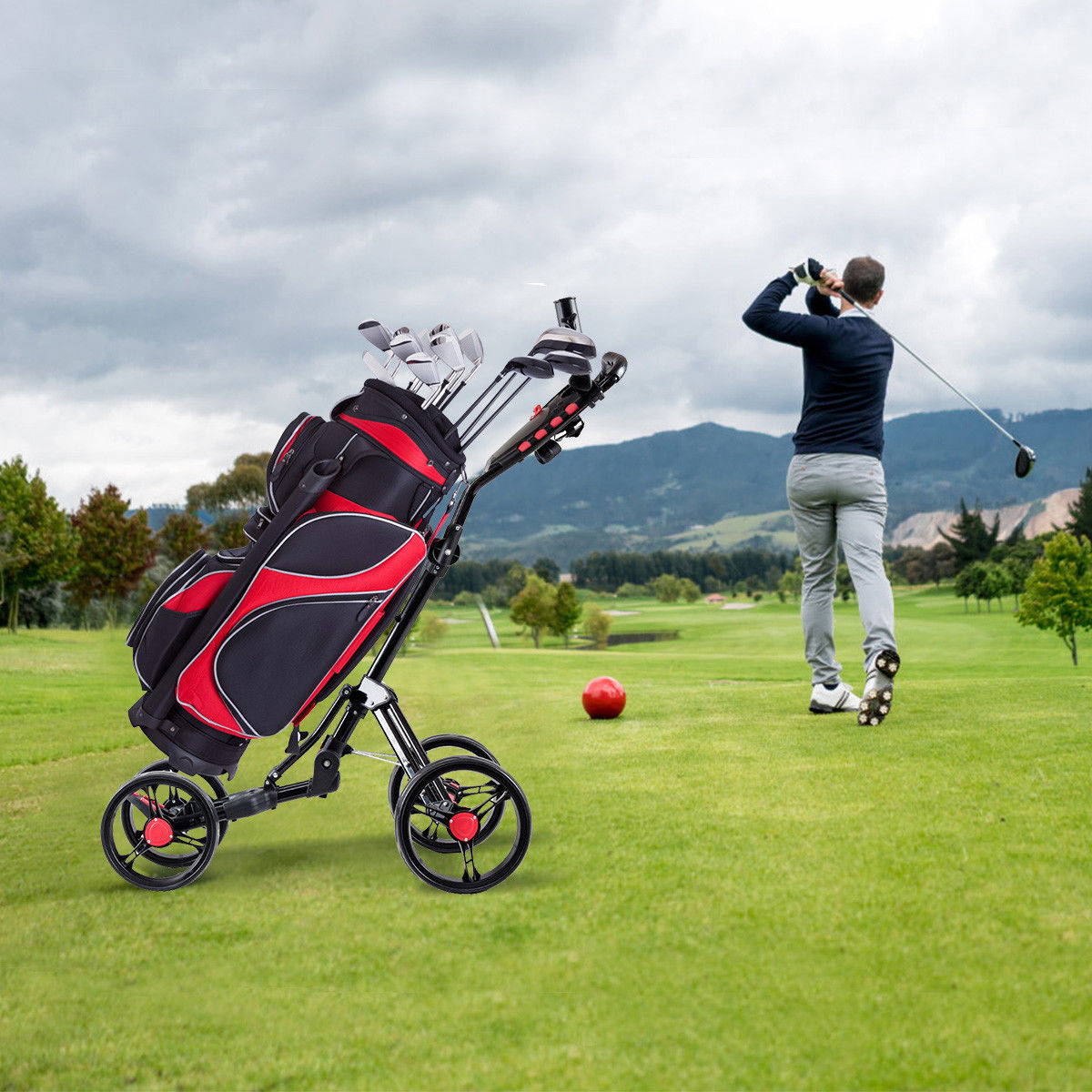 Clicgear 8.0 Golf Push Cart

The Clicgear 8.0 is a golf cart that is designed to look stylish and sleek on the green. It is versatile enough to carry any size bag, which can easily be secured in seconds; however, this Pushcart is only compatible with cart bags, so make sure that is acceptable to your playing style before you make a purchase. Collapsing the unit only takes two simple steps to make the dimensions of the cart much smaller than when it is extended. The frame is made of aluminum, which is a great way to keep the unit as lightweight as possible to allow you to save your strength for the game.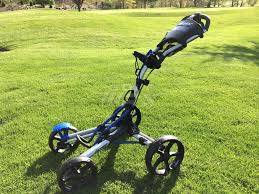 When it comes to accessories, this golf cart does not disappoint. The console in extra large, which makes it easy to keep the score while on the green. It comes with a convenient location to store your balls, tees, and pencils as well as a convenient umbrella holder that can give you some shade. In addition, there is also a mesh net to store things like your sunglasses or your cap as well as a cup holder that can easily hold drink containers of most sizes.
This device features a four-tyre design that allows the cart to travel across the course with a great deal of stability. The axles of the front two tires are separate, so hills and rough terrain will not be an issue. Since the wheels are designed with separate axles, keeping them aligned manually will ensure that the cart can maintain a smooth, effortless ride. Also, the tires are airless so that the maintenance requirements will be minimal.The brake for this golf cart is located right on the handle, which makes it convenient to reach when you are parking the cart. This braking system locks both of the front wheels in place, preventing the cart from moving completely
Pros • • The unit folds almost completely flat, which means that you will not need a lot of trunk space to bring it to the course.• The cart features a four-wheel design that adds a lot of stability to the unit, which makes it easier to push the cart across rough terrain.• The brake is conveniently located on the handle for ease of use.
Cons • • The brake is difficult to press, which could be an issue for some, especially as you get closer to the 18th hole.• This golf push cart only works with cart bags, which may be an inconvenience for some who may already own different types of golf bags.
Clicgear 3.5+ Golf Push Cart
The Clicgear 3.5+ is a golf push cart that is manufactured by one of the most reputable companies in the golfing industry. This cart features a compact design with a lot of technical features that may be appealing to some golfers.Construction and DesignThe Clicgear 3.5+ features a durable, sturdy construction that will increase the longevity of the device. The unit is rather compact, but when it is not in use, it can be folded down into an even smaller size that can easily fit into your car's trunk. To ensure your comfort while you are maneuvering the cart, the handle can be adjusted to an ergonomic height that is more suitable for you.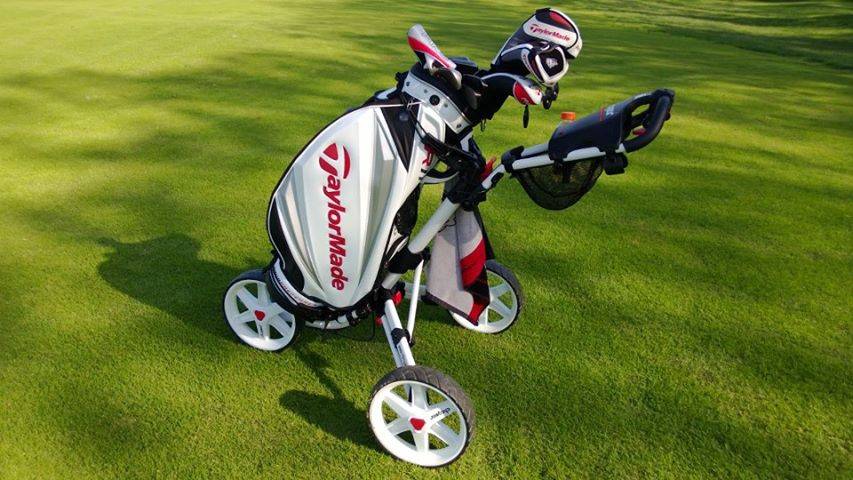 Having extra storage is important, so Clicgear has made the cargo net on this model much larger than it was previously; in fact, it is 80 percent larger. This cart also features a place on the dashboard to store your pencils, balls, tees, and scorecards as you play. Also, the umbrella holder is perfect for hot days on the green, but if you prefer not to use it, it can be removed. Another accessory of note is the adjustable cup holder, which can be great for storing your water or Gatorade as you traverse the green.
The tyres on the device are designed to be heavy duty tires that can maneuver across any terrain. The three tyres sport a tubeless design that is perfect for the green. The brakes are activated by a convenient lift lever that is located right on the dashboard of the cart, which serves as a parking brake for all three of the wheels.
Pros • It is designed to fold into a very compact size that makes it easy to travel. • The unit is made from very high-quality materials, yet it is still capable of being lightweight. • The braking system on this golf push cart is very easy to use. • A lot of accessories are included in the design of the Clicgear 3.5+. • Securing your golf bag to this cart could not be a simpler process.
Cons • The unit is a bit difficult to collapse the first few times, but once you know the process, it can be folded up quickly. • The cup holder is a bit tight on larger cups, so you may have to use a bit of strength to place your drink in the holder.