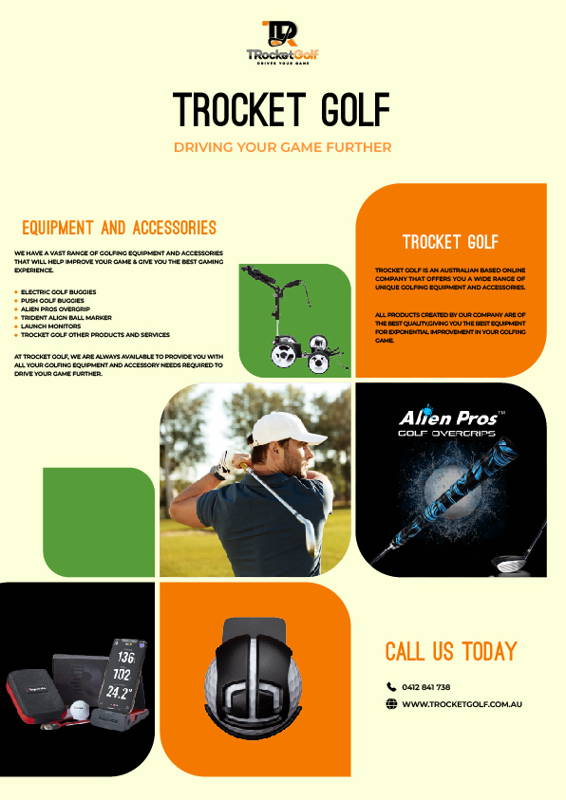 Trident Align Ball Marker
TRocket Golf are resellers of the world's first-ever fully adjustable ball marker. The Trident Align Ball Marker is formulated with a new technology that allows you to aim/target your ball like never before.
The trident align ball marker comes with a Sharpie in its pack that you can use in marking your ball. Then with the alignment Device, you can position your ball and aim properly.
If your markings on the ball don't match with the ball marker, then you can simply adjust your ball until it does then putt away.
The trident align ball marker is the ultimate gift to give to a loved one who is into golfing.
Every golfer, both professional and casual players, needs a ball marker in their golf bag. Why not get the trident align ball marker to complete your kit.
Electric Golf Buggies
At TRocket Golf, we only sell Australian electric golf buggies crafted, made, and distributed by us. We have in our catalog two Australian made electric golf buggies; the QOD, which is made in Sydney, and the Kingcaddy made in Adelaide.
Both of these buggies are made by professional Australian companies with years of experience in the field who are very dedicated to providing quality with a very respectable warranty.
We at TRocket Golf are extremely proud to be resellers of such great Australian brands.
Push Golf Buggies
We have partnered with Kingcaddy to introduce to Australia two quality Push buggies - the Classic Push buggy and the Elite Push Buggy.
The Classic Push buggy offers everything you need out of a push buggy — easy maneuverability, spacious compartments, etc.
The Elite Push Buggy, on the other hand, has more advanced features than the classic, such as more accessories and many more options.
Both our push golf buggies promise to give you the most out of your golfing experience. It provides for you an easy to maneuver wheeling system that way; you can easily make your way across the golf course.
Both Push Buggies are light and extremely easy to fold with a warranty covered by Kingcaddy, the manufacturing company.
Golfing has never been this easy. Both buggies are reasonably priced.
Alien Pros Overgrip
At TRocket Golf, we are the exclusive distributors for the Alien Pros Overgrip in Australia. The Alien Pros Overgrip is a user-friendly overgrip that takes the user less than five minutes to install.
Made from recycled materials, the Alien Pros Overgrip gives you the best and most comfortable hold of your golf clubs while playing.
The Alien Pros Overgrip gives you a strong grip that won't slip in any weather condition. Hot, cold, humid, or wet. They are easy to use, extremely comfortable while in use, and comes in a wide range of colors or styles. Using the Alien Pros Overgrip will give you a strong handle on the golf club while you play, thus improving your overall game performance.
TRocket Golf Other Products and Services
By putting your own personal label or business label on your golfing equipment, not only will this help you easily identify your golfing equipment if it were to ever get missing, but it could also help you better at marketing yourself or your business.
That's why we also offer customizable golf accessories and equipment for personal marketing, golf-linked businesses, golf-linked shops, etc., to give that personal or marketable touch to your golfing experience.
At TRocket Golf, we are always available to provide you with all your golfing equipment and accessory needs required to drive your game further.